Print
Trionic Veloped – a Modern Alternative to a Rollator
If you lead an active lifestyle, the Veloped is your ideal choice of a wheeled walker. With its innovative and unique design, the Veloped is state-of-the-art when it comes to support for walking, hiking and running. The Veloped is 20 cm longer and 3 cm wider than our Trionic Walker. With its patented climbing wheel, the Veloped can negotiate even tougher terrain as the three-wheel design is more off-road capable than any 4 wheel walker.

---
What is a Trionic Veloped?

The Veloped is a Swedish invention that has been developed at the KTH Royal Institute of Technology in Stockholm.
25 years of experience in bicycle racing, coaching and bicycle design has been put into practice when designing the Veloped.
The Veloped is tested and fully approved as a "rollator", but its design and its features differ a lot from conventional rollators. Its patented climbing wheel, its 3-wheel design and comfortable pneumatic tires work in unison for a totally new walking experience. It climbs curbs, roots and other obstacles with ease and turns cobbles, gravel, grass, snow and off-road trails into pure pleasure instead of a bumpy and unpleasant venture.
The Veloped is in fact the only truly off-road capable rollator/walker on the market.

Veloped:

A wheeled vehicle, propelled by pushing it when walking along the ground.

Descendant to the "Swiftwalker" invented by Karl von Drais in 1817, recognized as being the first bicycle.
Adjective for being "fast-footed".

[veloped: latin "velo" – fast; see "velocity" + latin "ped" – foot]

---
Be active – Stay active

Walking with a Trionic Veloped is an easy and enjoyable way to stay physically active, regardless of age or physical ability. You can manage your daily activities, improve your fitness, burn some calories and enjoy the outdoors.
By using a Veloped you'll make quick progress on your way to a healthier and longer life, and it's the perfect choice of exercise if all you need is a little support when walking, hiking or running.
The Veloped also has a positive influence on your health. Moderate exercise like walking helps protect the body from many illnesses and conditions. By walking with the Veloped for a total of 30 minutes a day you will meet doctors' recommendations for physical activity.

---
A true off-road machine

The Trionic Veloped is the only walker/rollator in the world that's truly off-road capable.
Watch the video and you'll see how easy and effortless the Veloped manages uneven ground, rocks, roots, kerbs, gravel and cobblestones!
---
Enjoy the Outdoors

Through its unique design, the Veloped promotes physical activity and outdoor activities.
The Veloped offers you greater access to the outdoors, and it enables you to perform physical activities that you wouldn't manage with a conventional rollator.
It is designed with a great focus on walking, and it is the first true off-road capable rollator/walker available in the world.
When walking in uneven terrain, the Veloped beats any rollator – hands down.
---
Rumble through the City

The city environment is no dance floor, instead, it's crammed with kerbs, cobblestones, potholes and obstacles.
The Veloped offers you major benefits also in urban areas, and it's not a walker only intended for off-road use.
Thanks to its climbing wheel and air-pressured tires you can walk through the city both faster and with greater comfort.

And looking cool when out walking doesn't hurt. The Veloped has been awarded as the winner of the Swedish design award "Aluminium Design", founded by the Swedish aluminium industry.

---
Trionic Climbing Wheel – Patent

Overcoming obstacles like curbs, roots and rocks is a very common problem among rollator users. If the obstacle is higher than 2-4 cm (depending on the wheel size), the rollator needs to be lifted in order to pass the obstacle. If the user is forced to lift the rollator or to perform some other maneuver to overcome the obstacle, the rollator has completely lost its main function of offering support.
The Veloped is equipped with the Trionic Climbing Wheel (Patent) that greatly increases the ability to overcome different kinds of obstacles when walking outdoors. By spreading the load over two wheels, slightly displaced in the travelling direction, the climbing sequence is divided into two steps.
The climbing capacity is enhanced even more through an angled link arm that uses the pushing force provided by the user. This gives the Veloped a unique feature, the capacity to climb a 13 cm high obstacle, for instance, a high curb or rock. When overcoming a lower obstacle, for example, a lowered curbstone at a zebra crossing, you only need a fraction of the pushing force a single wheel requires.
The pivoting link arm also provides suspension. On uneven ground, it constantly pivots and suspends the ride. The suspension turns an off-road walk with a Veloped into pure pleasure.
---
3-Wheeler Design – Off-Road Worthy

At Trionic we are really annoyed, as many rollator manufacturers market their rollators as being off-road capable. This marketing has nothing to do with the actual truth. Somewhat bigger wheels and/or somewhat softer tires simply aren't enough to turn a rollator into an off-road vehicle, and conventional 4-wheeled rollators are simply not off-road worthy.
Only a 3-wheeler design, with 3 points of support, offers permanent ground contact and proper off-road performance.
The Veloped's 3-wheeler design, the patented climbing wheel and comfortable air-pressured tires work in unison for a totally new walking experience. It climbs curbs, roots, rocks and other obstacles with ease and turns cobbles, gravel, grass, snow and off-road trails into pure pleasure instead of a bumpy and unpleasant venture.
To confirm the above statement: Please have a look at the modern off-road baby joggers. They are all, without exception, 3-wheelers. Only a 3-wheeler design, with 3 points of support, offers permanent ground contact and true off-road driving characteristics on rough ground.

---
Pneumatic Tires

Conventional rollators have rock-hard solid tires that offer nothing in the way of comfort when you are walking on cobblestones, gravel and uneven ground. Many rollators users are forced to plague themselves just to get to the supermarket, and the use of a rollator frequently causes severe pain in the hands, elbows and shoulders.

The Velopeds are all equipped with air-pressured tires. There are several advantages with air-pressured tires; they offer you a soft and plush ride and unbeatable comfort. As they do not cause vibration like solid tires do, you are less prone to suffer pain and discomfort in your joints when you walk on uneven ground.
Trionic offer you different tire options, and you can choose the correct tire for your Veloped, all according to your requirements and favoured walking terrain. You can choose between air-pressured tires from high-quality manufacturers Schwalbe, Continental, Innova and Diamond.
---
Bigger Wheels

The wheel size matters!
The performance of a rollator or walker relies heavily on the size of the wheels.
The bigger the wheel, the easier it is to pass obstacles and uneven ground, and the comfort level also increases with the wheel size.
A bigger wheel simply performs better than a small wheel, especially outdoors.
The Velopeds all have 12"/31 cm and 14"/36 cm big front- and rear wheels as standard.
Thanks to its bigger wheels the Veloped manages gravel, curbs, cobblestones, rocks, roots and wooden trails with both greater ease and higher comfort, in comparison with conventional rollators.
---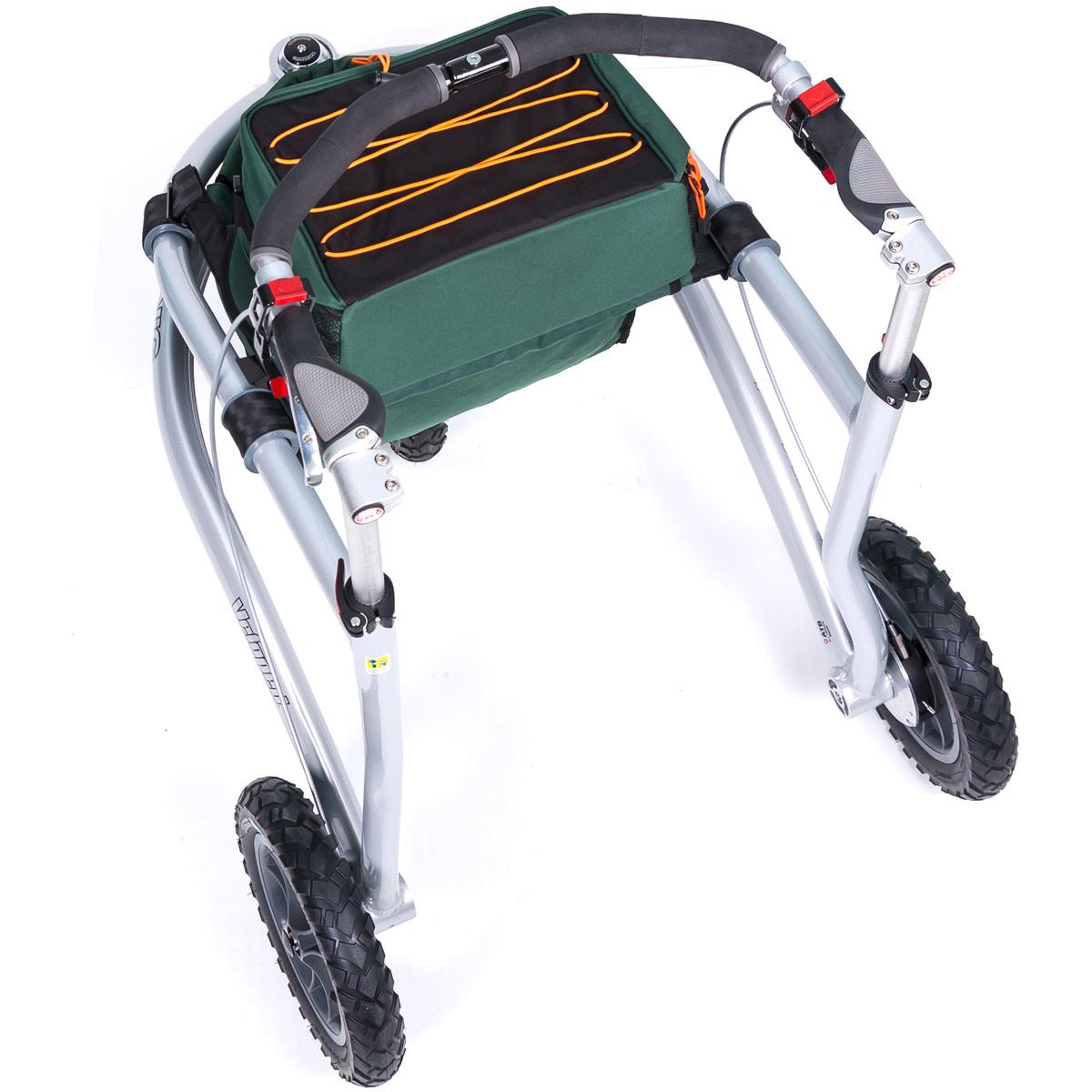 Additional Features

The Veloped offers several unique functions and features:
Height-adjustable grips, free from fixed increments.

Foldable frame and detachable wheels with quick-release axles.
Slideable seat to increase legroom when walking.
ATB – All-Terrain-Brakes for optimal safety.

U-shaped grip bar that offers several hand positions.
Basket with zippered pocket.
Motion- and parking brake.
Angle-adjustable grips.
Show all functions & features »
---
Choose between 5 Trionic Veloped models

Depending on your preferred physical activities, there is always a Veloped that meets your requirements. All Velopeds are the same in terms of frame, brakes, wheels, tyres, functionality and performance. It is just the textile fittings, colours and accessories which are different.

---
Veloped Sport

For Fitness Walking

The Veloped Sport will be your faithful supporter when you practise the world's most underrated physical exercise – walking. Walking may be the closest thing to perfect exercise, and it's a great way to get in shape and lose weight.
The intensity level of fitness walking is optimal for improving your health, while at the same time achieving a high fat-burning effect. If your aim is to lose weight and improve your fitness at a steady rate, fitness walking is an excellent choice. You can exercise a little longer each time, and instead of wearing yourself down, like with more intensive workouts, you will enjoy faster progress when working towards your personal goal. For maximum health and fat burn effect, the ideal pulse rate is 55-70% of your maximum heart rate.
The Veloped Sport offers you comfort, support and safety while exercising. It greatly reduces the impact and stress on your body that can be caused by fitness walking.
It has the same advantages as a mountain bike has for cyclists and you can head for green areas, walking paths, exercise trails and the forest. Now you can fully enjoy fitness walking – feeling safe and free to go wherever you want.
The Veloped Sport is tested and fully approved according to the European standard for rollators/walkers (ISO-11199). It also has a CE mark.

To Veloped Sport model program »
---
Veloped Tour

Offers everyday comfort and freedom

With the Veloped Tour, you will enjoy daily comfort and practicality. It is very well suited for taking a stroll in the park, for going shopping and for sightseeing. The roomy basket loads your groceries from the supermarket, and bringing them home is a joy with all the benefits of the climbing wheel and air-pressured tires.
To provide optimal seating comfort, the seat depth has been increased to 30 cm. The longer seat, in combination with rigid plastic inserts, offers plenty of support along the legs.
The colour design is sombre and elegant, with silver stripes and matching redlining. The stripes are made from 3M Scotchlite reflective fabric, and when walking at night the reflective stripes offer increased safety in traffic.
The Veloped Tour also comes with a practical rain cover that protects the basket and seat. The cover has a 2-colour design, and you can choose between silver and black depending on what side you turn outwards.
The Veloped Tour is tested and fully approved according to the European standard for rollators/walkers (ISO-11199). It also has a CE mark.
---
Veloped Trek

Equipped for hiking and travelling

Load up your Veloped Trek and head for exciting adventures.
It offers a multitude of options to carry all your gear when you are heading out to explore the world. With its versatile seat bag and backpack, the Veloped Trek is your perfect companion for hiking, camping and travelling.
The seat bag snaps onto the seat and is easily folded forward when you want to sit down for a break. It has three separate inner compartments, with plenty of room for your camera, maps, your valuables and a water bottle or thermos. The seat bag can also be carried as a shoulder bag and has a padded detachable strap. One zippered outer compartment and two mesh pockets swallow your smaller items. A top elastic cord holds any extras.
The backpack fits nicely into the basket, and with a full-length zip, you have easy access to the main compartment. The shoulder straps can be hidden in a separate pocket. Your MP3 player fits into the small top zippered pocket, and there is a sleeve for your headphones. In addition, there is a zippered outer compartment and two mesh side pockets that fit two water bottles.
The seat cover, basket, seat bag and backpack are made from sturdy and water-repellent 600Dpolyester, with reflective lining for safety when walking in traffic at night.
The Veloped Trek is tested and fully approved according to the European standard for rollators/walkers (ISO-11199). It also has a CE mark.
---
Veloped Golf

The new and unique Golf walker

Stay in the game and do yourself a favour by walking the golf course instead of riding an electric golf cart.
With the Veloped Golf, you'll last the distance playing 18 holes while getting plenty of healthy exercise at the same time.
With all the benefits of the climbing wheel, the suspension, the 3-wheel design and its air-filled tires, the Veloped Golf finds itself very much at home on the golf course.
The Veloped Golf has two golf bags that are attached to the main frame. It loads a full set of 14 golf clubs, and the bags can either be closed or left open at the front depending on your preferred way of carrying your clubs. The basket loads your water bottle, some extra clothing and whatever you might need along the fairway.
The Veloped Golf is tested and fully approved according to the European standard for rollators/walkers (ISO-11199). It also has a CE mark.
---
Veloped Jakt

For hunters

The Veloped Jakt will be your trustworthy companion on your hunting trip.
Many hunting areas are not very easily accessed. You are required to hike along trails and dirt roads in order to get there. Even if you are a seasoned hunter, going on a hunting venture can be a major challenge if you suffer from knee problems, back pain, weakened joints, overweight or age-related issues.
A proper "hunting walker" needs to perform well in all off-road terrain. Standard issue walkers and rollators are not at all intended for this kind of terrain, whereas the Veloped Jakt is.
With the Veloped Jakt's off-road capacity and climbing wheel, you can easily overcome roots, gravel, rock and dirt on your way to the hunting ground. The suspension, air-filled tires and the 3-wheel-design offer unbeatable comfort and consistent ground contact.
The rifle bag, that attaches to the main frame, relieves your back, and the seat is very practical when waiting for your prey.
The Veloped Jakt is tested and fully approved according to the European standard for rollators/walkers (ISO-11199). It also has a CE mark.

---